These days its super hard to convert visitors into conversions as ever before. In the early days of internet marketing, it was much easier as people were less tech savvy than the average user today, so what are some options for you to convert as many visitors as possible into sales or leads for your business?
WordPress GEO Targeting!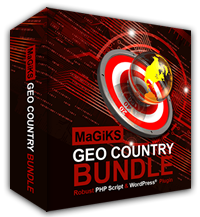 The answer is simple! Use a wordpres GEO targeting script to do it! Now this is highly complicated and requires tons of PHP and Coding scripts, however, a good friend of mine, Keith, finally released a easy to use wordpress plugin! Before, I was using his script that he had made, however, it was still pretty complicated and tedious to do. Now he finally released a wordpress plugin that makes it super easy to install and configure!
Never Lose International Traffic!
So what does it exactly do? Well depending on your users IP, it will show them ads and and forms specific to their GEO location. Meaning if you have someone from the UK visit, why show them a US offer? Rather have it optimized with a UK offer and never lose any international traffic ever again! This truly is a must have tool, and if you aren't GEO targeting your traffic, you are leaving money on the table!