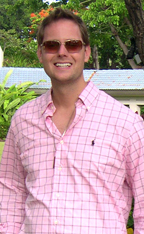 PPC internet marketing can be one of the most profitable areas to make money online with, but can also be one of the most difficult ones to scale properly. Now who do you go for the best advice on PPC and search engine marketing? The answer is simple, you go check out Ian Lopuch's blog about Pay Per Click marketing and SEM. I've gotten to be good friends with Ian, as we frequently learned from each other through our blog posts, and he has even helped me with my college career!
Ian has had over 6 years experience in the PPC industry and is now the Director of Search Marketing at a large publicly traded company. You can watch one of his presentations on PPC marketing that he did at the Standford Graduate School of Business here to learn more about PPC if your completely new to it. He is truly at expert at what he does, so rest assured that your in safe hands on his blog! So without further ado, enjoy the exclusive interview that I was able to get from Ian himself!
Describe what you would do on average as a SEM Director.
Dino, first and foremost thanks so much for the opportunity to interview with you. I'm a long time reader and commentator on DinoVedo.com and have really enjoyed your blog. It's an honor to interview with you.
This is a great question. I'm currently Director of Search Marketing in the corporate world of pay per click search engine marketing. Within the corporate world of online marketing, there exists a clear career path: Associate, Senior Associate, Analyst, Senior Analyst, Manager, Senior Manager, and then Director. Over the last 6 years, I have ascended the ladder rapidly and am now at the executive level of online marketing. I'm one of the youngest people I know of in my position.
As Director of SEM, I'm primarily in a people management and strategy role, spending less time on day-to-day campaign management. It's a true blast being responsible for tremendous budgets and a large team. I'm putting together all the pieces in large scale strategies that are truly exciting and pioneering. As someone who places supreme emphasis on the people management side of things, it's really thrilling to train and grow the future leaders of the online marketing industry.
Check Out Ian's Make Money Mind Map
You currently live the internet lifestyle, what does it mean to you?
I live a really interesting version of the Internet lifestyle. When most people think of the Internet lifestyle, they think about working from home (or really anywhere they please) via affiliate marketing. This is a great route, but it's not the route I've taken. My personal route has been one of "going for it all". In addition to blogging (via my pay per click blog PPC Ian) and affiliate marketing (via my company IJL Productions LLC), I have really embraced the corporate world of online marketing as my primary focus (this is where I spend at least 90% of my work time).
While this focus has afforded me less flexibility in the short run (less control over hours, on call 24/7, less time to travel), it has taught me invaluable lessons and allowed me to amass a portfolio of stock in high quality private companies such as NexTag, QuinStreet (now public but private when I got it), and Inflection.com. All of this will give me ultimate flexibility in the long run. To sum it all up, my version of the Internet lifestyle is going for it all and making as much of an impact as possible when I'm young, with the eventual goal of retiring completely as young and wealthy as possible. I may burn out at some point, but am going stronger than ever right now!
What do you see are the biggest mistakes internet marketers make?
GREAT question: A lack of persistence, plain and simple. I have made this mistake myself time and time again. This game is all about patience, the type of patience that takes years and years. As just one example, my best SEO affiliate sites (by orders of magnitude) are the ones I started way back in 2007 and kept updating even though the profits were slim to none for the first two years. They are now exploding! This same persistence plays out in the corporate word. Stock options are typically on a four year vesting cycle with a one year cliff. The longer you stick it out, the more stock you accumulate.
Do you think a college degree is needed to succeed online and how has one helped you?
I do not think a college degree is necessary to succeed, but I HIGHLY recommend it. My Stanford Computer Science degree has paid more dividends than I can count in terms of contacts, reputation, and of course education (a lot of which is directly applicable to online marketing). I would not have 1/10 the success I have now if it weren't for my Stanford education. That said, this is my personal situation. There are many folks out there who have thrived without college degrees, especially in the world of affiliate marketing. It's really all up to the particular person. However, if you want it all – the corporate world AND the affiliate world – I can't say enough good stuff about going out there and getting your college degree from the best name brand school you can find.
What type of advice would you give someone who wants to join the corporate world of PPC?
Aside from studying a technical discipline such as computer science, electrical engineering, or mathematics at a name-brand Ivy League school, it all comes down to drive, determination, and persistence. The corporate world of PPC is like a 24/7 Wall Street trading floor. It can get crazy! Most people fail in this business because they cannot stomach the volatility and the pressure over the long run. There are many days when you will question your entire career path – this stuff is NOT easy. I can't even count the number of folks I've seen burn out and go crazy in this line of work. Go into this knowing that it's going to be tough but the rewards are huge. Pick your companies wisely and stay at them for the long run. It's an incredibly rewarding career path and one that will allow you to retire young, in my opinion.
What does your future hold and how do you prepare for it?
I'm a really ambitious guy. In the corporate world, my primary goal is getting to the VP level at a large, publicly traded company. I'm on that career path and am working as hard as possible every single day to achieve my dreams. In terms of affiliate marketing, my primary goal is replicating my entire corporate income. It's not that I want to leave the corporate world, but more that this is just a reasonable and ambitious target. In terms of achieving these goals I will continue to focus on leverage, persistence, and hard work. More than anything, I am truly thankful for my amazing and beautiful wife who supports me 110%. Dino, thanks so much for the interview!
Conclusion
So to sum things up, PPC is a very versatile and powerful money making opportunity for anyone to get started in, and definitely has a lot of potential growth, if you want to make a lot of money online. I truly thank Ian for this interview and the time that he has spent in writing this and helping me out through the months that I have been following his blog. Not only does he try very hard to provide quality posts on his blog, I also have seen him on countless of other blogs due to his unique blog commentating system that he is working on perfecting. You can learn more about what hes doing here. With that said, I encourage you to leave your thoughts below, comments, or any questions you may have and thanks for reading!